Ameritalent has been hosting, producing and promoting mall and shopping center events and promotions since the 1970's. Beginning with our celebrity promotions Soaps On Stage (soap opera stars), Sports On Stage (sports stars and memorabilia) and Stars On Stage (tevelvisions stars of the 50s, 60's 70s, 80,s 90s and reality stars), and expading into annual event promotions and events such as our Bridal Showcase series of wedding fairs and expos, our Back To School Expo, our Father's Day Classic Car Shows, our Healthy For Life Health & Wellness Weekends, and special event attractions such as The Ultimate Mall Challenge Game Show and our Model Search & Fashion Shows, and of course annual holiday events, Ameitalent has remained active in mall events for 5 decades.
Whether you are looking for someone to produce and execute your inhouse promotional events, or are interested in hosting our current roster of promotional events, Ameritalent is your source for family-friendly events that combine high-visibilty, press and media, merchant inclusion and high-profile interactive customer experience.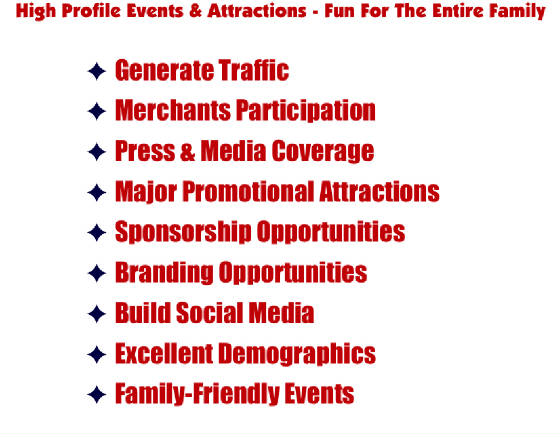 Bridal Showcase
Love and romance is in the air as our Bridal Showcase features all of the essentials for planning and creating the perfect wedding day. Brides, Grooms, their bridal parties and families will unite to enjoy a weekend of one-stop shopping featuring the businesses and vendors throughout your mall that will help make the dreams of their special day into their reality. Includes a Bridal Fashion Show highlighting the styles and formal wear, honeymoon casual wear, sporting wear, swim wear, accessories and more from mall stores and participating vendors create a unique promotional and traffic-generating opportunity for mall stores.

Healthy For Life Health & Wellness Fair
An event that features heath, fitness and nutrition-based activities including vendors and a variety of family health-related businesses showcasing the latest health screenings, demonstrations, educational resources and presentations. This family health event can also include several optional events such as celebrity appearances and more. Featuring the message of family health, this great family event also includes our Healthy For Life - Eat It!, Move It! Live It! presentation which creates awareness and education to the problem of youth and teen obesity.

The Ultimate Mall Challenge Game Show
Bring all of the fun & excitement of a real live t.v. game show to your mall! The Ultimate Mall Challenge Game Show is a starring feature attraction. Let your merchants be directly involved in the game show action by offering prizes, giveaways, incentives and traffic generation premium promotional tie-ins throughout the entire event.

Ideal for grand openings, holiday events, back to school, anchor promotions, seasonal events, theme weekends, live radio broadcasts, or may be included as part of any current promotional event or attraction. The Ultimate Challenge Game Show is the ultimate marketing & promotional vehicle. Let your merchants become directly involved in our game show performances and directly increase sales with our mall-wide format of shopping games between performances, keeping the revenue opportunities continuing even in between performances.

A high-profile attraction that is fun for all ages. Individual or family game play available. Formats available for kids, adults and seniors. Enjoy up to three crowd gathering, audience participation stage performances per day, plus fun and games play in between the scheduled performances keeping customers shopping, dining, engaged, and participating in contestant registration continuously throughout the entire day.

Back To School Expo
Let kids and families get excited about going back to school with this weekend promotional event featuring everything they need for the return to the new school year. Including informational booths, community vendors, organizations and agencies, our Back To School Fashion Show features mall merchants and area kids from our Kids & Teen Model Search, health screenings, back to school supplies, student and family safety presentations, guest presenters, educational entertainment and more all designed to create a fun family event to assist local families in returning to school.

Classic Car Shows
Let the good times roll! A great family event featuring classic and specialty cars and motorcycles from yesterday and today. Relive the generations with music, vendors, prizes, contests and the finest hot rods, customs, stock, antique, classics, funnycars and motorcycles from the past hundred years. Vote for your favorites and enjoy the awards presentation. A costume contest allows everyone to dress up in "threads" from their favorite decade of the past - leather bikers, poodle skirts, tie-dies, disco suits, and more will fill event. Great rides, great tunes, great food and great family fun, while raising funds by hosting a fun "retro" family event! An excellent Father's Day promotional event or great at other times throughout the year.

Arts & Crafts Show
An event featuring a variety of arts and crafts feature dealers from your area and the surrounding communities. Woodworks, handmade crafts, specialties, holiday and gift crafts, clothing, jewelry, a variety of many types of art, and much much more. Many additional activities, concessions, add-ons and related events allow you to create the perfect promotional weekend event. This great community event will attract local guest as well as visitors from neighboring communities join in the festivities. Arts & Crafts activities for kids and teens, entertainment and giveaways also make this a great family event for all ages.

Family Funfest
The ultimate family fun event! An event with fun, activities, entertainment and a variety of businesses and vendors from your community. Stage performances, face painters, strolling characters and performers, prizes, contests and much, much more. Features, activities and events for all members of the family - kids, teens, parents, and even grandparents. Everyone of all ages will enjoy a great family activity of fun and entertainment.

Santa's Holiday Festival
Celebrate the holidays with one of our most popular promotional attractions! Your choice of over fifteen holiday features, attractions and activities including Santa's Workshop, a Holiday Arts & Crafts Show, a Toy/Food Drive for charity, and the very popular Breakfast With Santa. Holiday arts & crafts for all ages and family fun and entertainment with our fun and games team presenting "Reindeer Games" for kids, teens and even the entire family. A great family event at a very family time of year.

Model Search & Fashion Show
Our Model Search is a fun and exciting way for kids and yes, sometimes even adults to audition to be part of our basic model training an recruitment to be in our mall fashion shows which include Holiday Fashion Shows, Bridal Showcase Fashion Shows, Spring & Summer Fashion Shows, Prom Fashions, and our popular Back To School Fashion Shows. Our Model Searches are an excellent way learn and be part of the experience of these exciting productions while gaining some entry-level modeling experience and memories on our runways and promotional opportunities.

Collectibles & Memorabilia Show
A weekend event featuring a wide variety of collectibles exhibits and vendors from yesterday and today spanning the past 100 years. Includes all types of collectibles and memorabilia including movies, television, pop culture, history, music, radio, sports, toys and games, autographs and much more. Can also include celebrity appearances, autograph & photo sessions and main stage presentations.