Presentations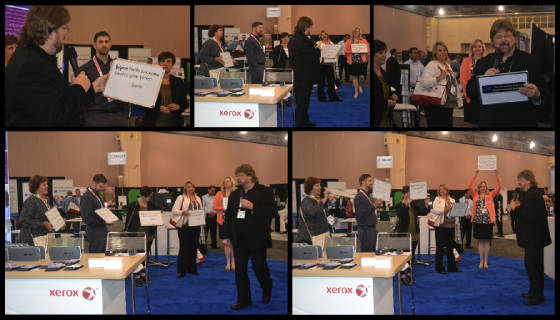 Every hour, on the hour, Robinn's presentation will begin. The audience is immediately attracted and engaged by the uniqueness and mass-appeal of learning what their Handwriting reveals about themselves.
As the audience learns about the concept of Handwriting, your detailed information is offered as the example. In the process the audience sees, learns and retains your company's name and key benefits of your product, service or corporate message. Your message becomes instilled throughout the entire demonstration.
Your audience will be captivated as Robinn offers professional, tasteful Handwriting profile readings of audience members while showcasing your company's products or message. Then the tables are turned as the audience becomes the "experts" as they try to match Handwriting samples (featuring your products or message) of volunteers to their correct author based on characteristics just demonstrated. The entire presentation is fun, interesting and based on "edutainment".
At the conclusion of the presentation audience members can enter to win one of several personal profile readings or premium giveaways by simply providing their Handwriting
sample on your contact information form and turning it in to members of your sales team or one of our promotional assistants.
Personal Profile Readings

Excellent for trade show booths, receptions, hospitality suites, Mixers, networking eventand other more intimate or casual gatherings. Your guests will enjoy hearing about their favorite subject...themselves, with a Personal Handwriting Profile. All profile readings are presented in a professional promotional folder revealing their unique characteristics and details combined with your promotional message or imaging.
Guests love to learn what their handwriting says about themselves. Each guest participant will receive a customizable Keepsake Analysis Personality Profile of their personal analysis. Attendees will be amazed at the accuarcy of their analysis.

Handwriting Exposed! is the perfect interatcive booth attraction offering personal engagement, lead generation and an ideal branding resource creating impact long after your event. Available independently or in combination with our live presentations generating the
greatest interest and benefits.